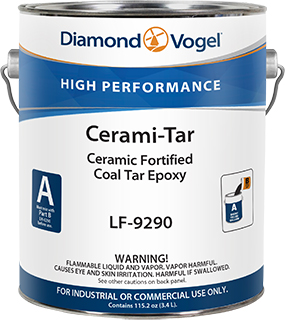 THE NEXT GENERATION OF COAL TAR EPOXIES
Cerami-Tar is the next generation of coal tar epoxies, taking full advantage of new technologies. Cerami-Tar enhances the durability and protection of the coal tar resin through lamellar functionality by incorporating ceramic beads into the film. This innovative use of ceramic bead technology also reduces the weight of the product, while still protecting steel and concrete exposed to aggressive chemical environments.
Cerami-Tar Ceramic Fortified Coal Tar Epoxy is formulated as a barrier coating for use in areas exposed to sanitary sewage or fresh and salt-water immersion. Cerami-Tar meets or exceeds the performance requirements of the Corps of Engineers formulation C-200 and Steel Structures Painting Council (SSPC) formulation SSPC-16.
States of Illinois and Colorado
States of Illinois and Colorado
Meets LEED-NC '09
Features
Meets or exceeds the performance requirements of the Corps of Engineers Formulation C-200
Meets or exceeds the performance requirements of SSPC formulation SSPC-16
Protects steel and concrete exposed to aggressive chemical environments