Home Comforts
A palette of cozy fall shades
Posted 10/14/2020
---
Featured Colors:
  With Fall underway, this palette evokes the protective and reassuring warmth of home comforts. Inspired by wholesome cooked meals and relaxing by a cozy fireside, this collection of hues promises to comfort. Warm and easy neutrals like Hearthstone and Coconut Macaroon harmonize with fall-inspired Jack-O-Lantern and Spiced Carrot while the cool shadow of Tornado Wind brings definition and depth.
---
Create an elegant guestroom with a warm to cool palette. Combine rich and velvety Spiced Carrot for walls and smooth and smokey Tornado Wind for plush textiles and feature cabinets.
Looking for a quick DIY paint project? Update tired wooden stools and chairs with the subtle pink hue, Coconut Macaroon, and pair with warm natural accessories for a laid-back boho style.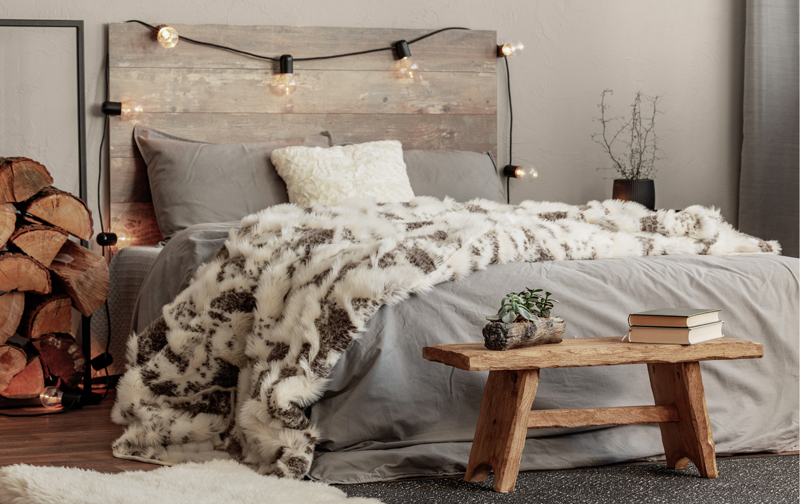 For a rustic, country cabin-inspired mood in the bedroom, try the light warmth of Hearthstone as an allover paint scheme. In combination with raw, dark woods and cozy faux fur throws, this easy neutral scheme creates a cozy escape to nestle and unwind.
---
Enjoy all the comfort with this palette of warm and cocooning colors to transform your living rooms, guestrooms, and bedrooms into cozy nesting zones to enjoy all the way through the colder months.
---