On a Roll
CHOOSING THE RIGHT ROLLER COVER
Posted 09/26/2022
---
The key to a smooth painting experience is selecting the proper applicator for the project. Rollers are a great choice for quickly and easily covering large areas. Here what you need to know about choosing the best roller cover for your project.
the anatomy of a roller cover

Roller covers are made up three main components: fabric, adhesive, and core. The core is the base of a roller cover that is typically made of a specially treated cardboard or plastic. The adhesive bonds the fabric to the core. The fabric has the largest impact on the cover suitability for a specific project.

fabric material
Synthetic is the most common and most frequently used category of roller cover fabric. Usually nylon, polyester, or a combination of the two is used. The quality level can vary greatly within this category, from low end economy models to high end covers designed for professional painting contractors.
Wool was the fabric used on original roller covers. Wool covers are also commonly referred to as lambskin and sheepskin. They will typically carry about 40,000 to 60,000 fibers per square inch vs. synthetic which can be anywhere from 3,000 to 6,000. While more expensive than synthetic fabric roller covers, some painting contractors prefer wool fabric covers because they hold more paint and have better release and clean up faster.
Mohair fabric covers typically combine natural goat hair with synthetic materials. They are preferred for producing glass-like finishes on smooth surfaces. They are great for enamels on doors and millwork as well as clear coatings. They are typically very low nap (from 1/4" to 3/16") and hold and release better than manmade fibers.
fabric construction
Roller cover fabrics are predominantly manufactured by knitting or weaving. The knitted covers pick up and hold more paint, allowing for faster coverage. However, they are prone to shedding leaving unsightly lint in your paint finish. The lint is easier to see in higher sheen finishes, so shed resistant covers made with woven materials are preferred for semi-gloss and gloss finishes. Relatively new on the market are Micro Fiber covers which are best when used on higher sheen finishes. They leave a very smooth spray like, lint free finish and hold more paint than the woven covers, but don't release as well as knitted fabrics.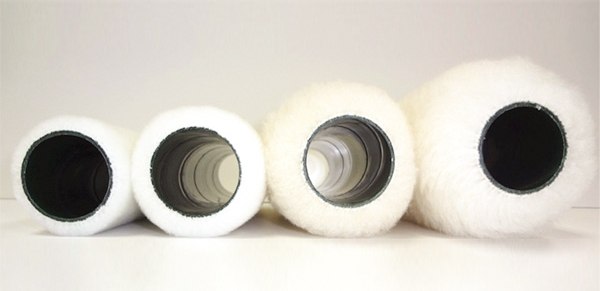 the nap
Nap refers to the length of the roller cover material. Select a nap length according to the surface texture .
Nap length: 3/16" and 1/4"
? Best for: Smooth surfaces
? Use on: Untextured plaster or drywall, metal, or smooth wood such as cabinets, doors, or trim
Nap length: 3/8" to 1/2"
? Best for: Medium (semi-smooth) surfaces
? Use on: Lightly textured drywall or wood, acoustical
Nap length: 3/4" to 1"
? Best for: Semi-rough surfaces
? Use on: Stucco, textured plaster walls, paneling, concrete floors or blocks, decks
Nap length: 1 1/4" to 1 1/2 "
? Best for: Extra rough surfaces
? Use on: Rough wood, cinder block, brick, heavily-textured plaster or stucco, chain link fences
loading paint onto a roller cover
Condition a roller cover before painting makes it easier to load paint into the cover and easier to clean when you re done painting. For latex paints, immerse the cover into clean water and remove after a few seconds. For solvent paints, use paint thinner or applicable solvent. Use a roller spinner to remove the excess water and finish by wiping the cover with a clean rag or towel. Often professional painting contractors will remove loose lint and fuzz from new covers by pressing painter tape on the surface of the cover.
Prepare your roller tray by adding a tray liner to make cleanup easier. Stir the paint thoroughly and add it to the well of paint tray. Dont overfill the well, as this will cause excess paint to seep into the roll-off area making it more difficult to load paint into the cover.
Dip the cover into to the well to begin the loading process. Lift the cover out of the well portion of the tray and roll several times in the roll-off area to disperse the paint evenly over the cover.
The initial loading of the cover may take some time.
Keep your cover full of paint. Painting too large of an area between reloading will cause the cover to mat making painting more difficult and could result in improper coating film build. If the cover makes a crackling sound when rolling over the surface, more paint is needed.
Pro Tip:Instead of using a roller tray, use a roller screen in an empty five gallon bucket. There less chance of spatters and spills, and it easier to load paint into the roller cover. Also, pre-wetting your roller (as mentioned above) will help with the conditioning the roller for painting. For clean-up you may want to invest in a roller spinner as this will help in removing the excess water or solvent from the cover during cleanup.
the paint
All paints are not created equal. If you re having troubles applying paint, make sure that the paint you are using is meant to be applied by roller. Most are, but the rheology of some coatings can vary widely and are not made to release from a roller like you would expect. With new lower VOCs, high solids, and faster drying coatings, matching the right roller cover to the coating can be tricky. There is also a wide degree of anti-splatter additives in some coatings. If you re concerned about splatter resistance, check with your local for help with selecting the right coating and application for your surface.
---